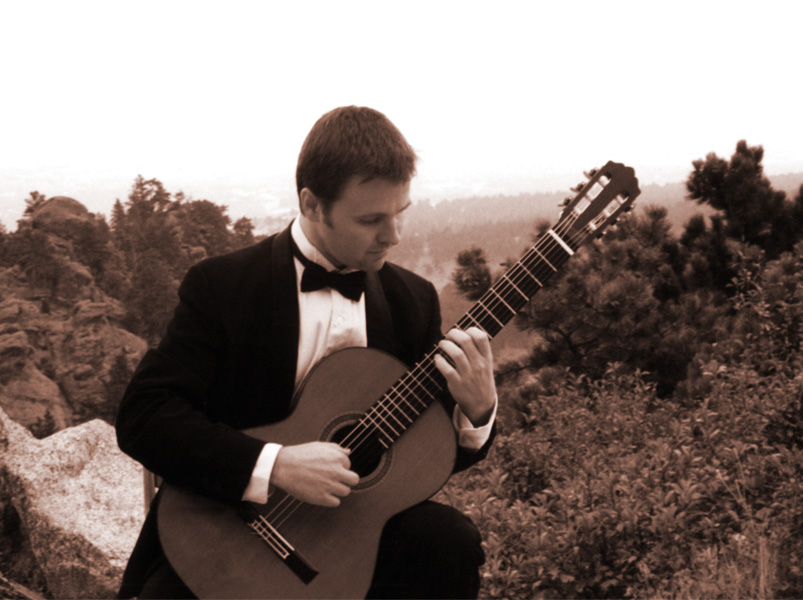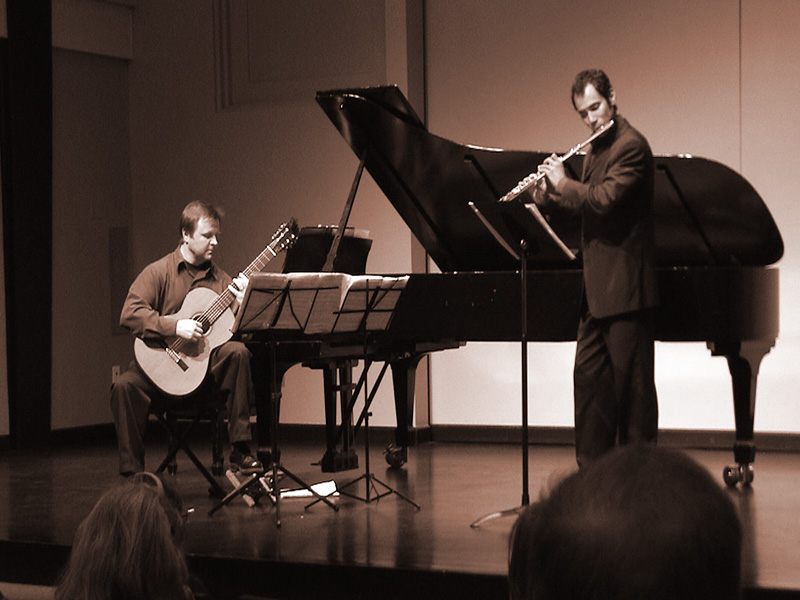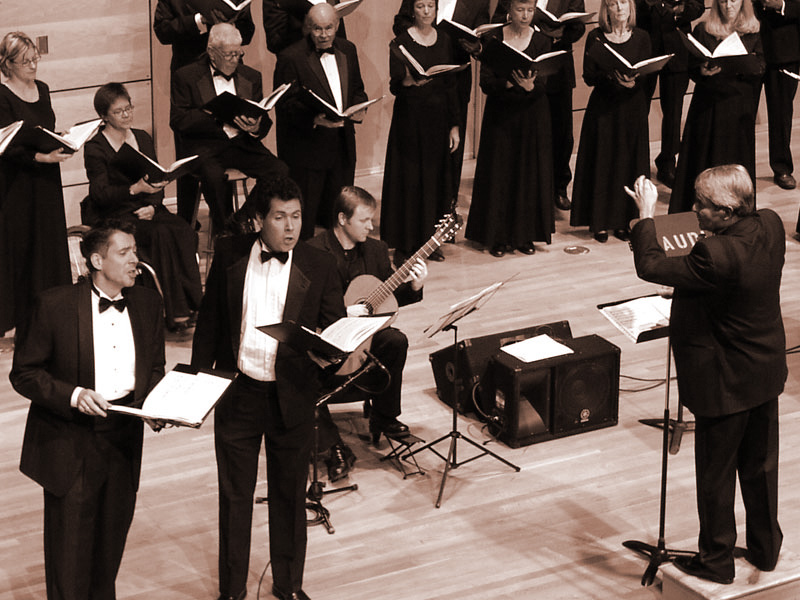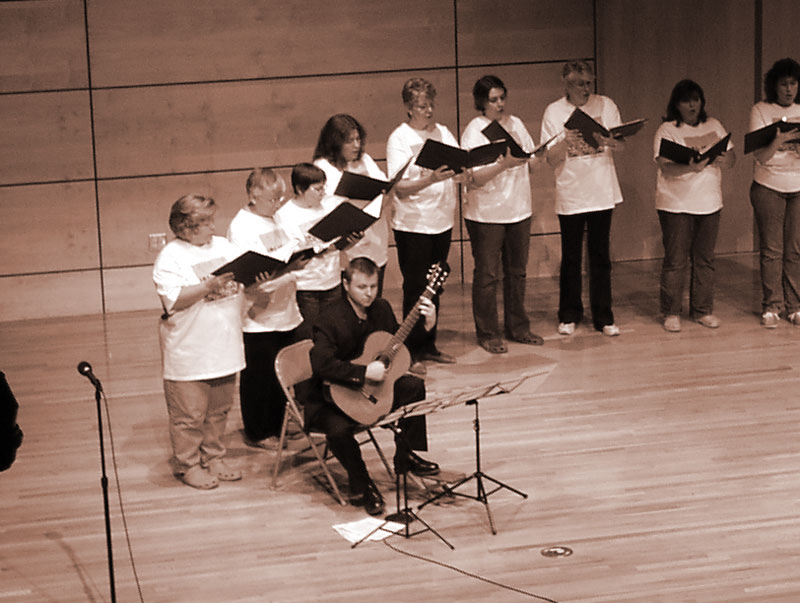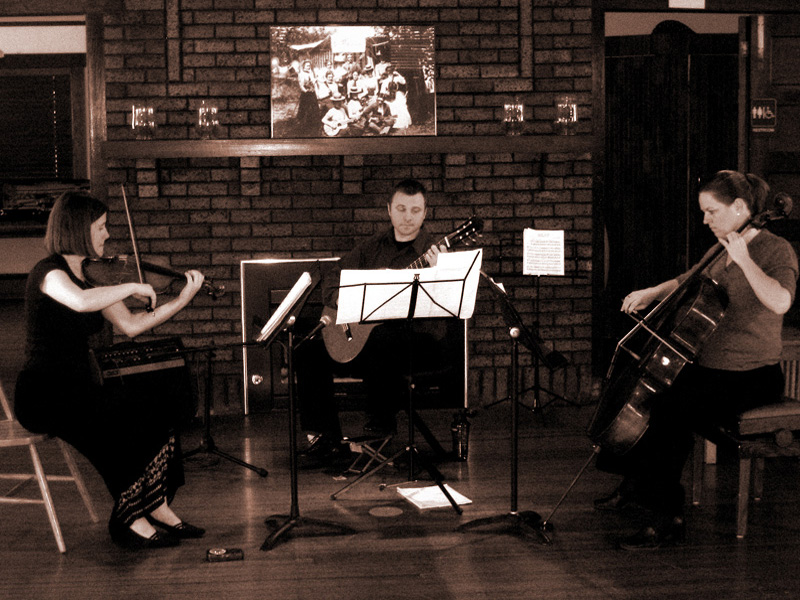 About the artist

Michael is a native of North Dakota with a Master's degree in guitar performance from the Florida State University. Michael studied guitar with Rex Willis, Stephen Robinson, John Chiarini, and renowned pedagogue Bruce Holzman. Michael is currently an active teacher and performer in Boulder County, Colorado.

Michael draws from the vast heritage of classical guitar repertoire, from renaissance to 20th century, to provide diverse and eclectic performances. Michael's repertoire includes works for solo guitar, flute or violin and guitar, voice and guitar, guitar duo, guitar and string quartet and guitar with chamber orchestra.
As a student, Michael won an undergraduate music scholarship, a graduate assistantship, and first prize in the Florida College System Activities Association (FCSAA) and the Florida Association of Schools of Music (FASM) string competition. Michael has performed with many regional music ensembles including the Colorado Music Festival Chamber Music Series, Aster Women's Choir, Cantabile Singers, Broomfield Symphony Orchestra, and Florida State University Opera. Michael is available for solo and duo chamber music performances.
Michael plays a 1979 Robert Ruck constructed for Leo Brouwer
Media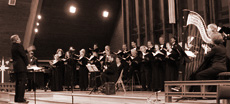 Flute and Guitar Audio
MICHAEL D. QUAM
Lafayette, CO 80026
720.890.0230
e-mail: guitar@michaelquam.com
web: http://www.michaelquam.com





EXPERIENCE

2010 - Present: Colorado Music Festival Center for Musical Arts

2006 – 2010: Rocky Mountain Center for Musical Arts

2001 – 2006: Guitar Instructor, Lafayette Music, Lafayette

1998 – 2001: Guitar Instructor, Snow School of Music, Medart, FL.

1994 – Present: Private Teaching Studio

EDUCATION

Florida State University College of Music

Master of Music in Guitar Performance

Certificate of Computers in Music

Bachelor of Music in Guitar Performance

Certificate of Performance

Certificate of Musical Skills


HONORS AND AWARDS

Graduate Assistantship at the Florida State University College of Music

Winner of the Florida College System Activities Association (FCSAA) and the Florida Association of Schools of Music (FASM) Competition in Guitar

Golden Key National Honor Society


PROFESSIONAL AFFILAITIONS

American String Teachers Association

Music Teachers National Association

DISCOGRAPHY


Chamber Music for Flute and Guitar - Jennifer Pauley, flute & Michael Quam, guitar

LIVE - Michael Quam, Solo Guitar

Songs and Lullabies Vol. 1 & Vol. 2 - "Thanks Michael, I listened to it yesterday. It is good! ... Love your playing and recording. Thanks so much." — Don Campbell, The Mozart Effect Author and Director of Music and Acoustic Services of Aesthetic Audio Systems, Inc.


SELECTED REPERTOIRE

Solo:

J. Dowland: Earle of Essex Galliard

J. Dowland: Lachrimae Pavan

J.S. Bach: Suite I for violoncello, BWV 1007

L. Brouwer: Elogio de la Danza

G. Frescobaldi: Aria con Variazoni

F. Kleynjans: Deux Barcaroles

A. Lauro: Registro

A. Barrios Mangore: La Catedral

J. Merlin: Suite del Recuerdo

J. Mertz: Elegie

L. Navaraez: La Cancion del Emperador

L. Navaraez: Sobre Mille Regretz de Josquin

M. Ponce: Preludes 1, 4, 5, 6

F. Tarrega: Recuerdos de la Alahambra, Maria

M. Torroba: Castles of Spain

M. Torroba: Suite Castellana

H. Villa-Lobos: Preludes 1, 2, 4, 5

H. Villa-Lobos: Etudes 1, 5, 11

S. Weiss: Suite in D Major

Chamber works:

L. Boccherini: Guitar Quintet No. 4 in D "Fandango"

Paganini: Terzetto for violin, cello, and guitar

Ibert: Entr' Acte for flute or violin and guitar

Piazolla: Histoire du Tango

R. Beaser: Mountain Songs for flute and guitar

Diabelli: Drei Stucke fur flote und gitarre

Francisco Nunez: 4 Spanish Lullabies for guitar and a capella voices

Sheila Forrester: Three Campion Songs for soprano and guitar

F. Carulli: Serenade Op. 96, No. 1 in a minor for two guitars

Kazimierz Seroki: Krasnoludki for three guitars

C. Susa: Carols and Lullabies for choir, guitar, harp and marimba

Sor: Romanze for flute and guitar

Paganini: Cantabile for violin and guitar

with Orchestra:

A. Vivaldi: Guitar Concerto in D Major, RV 93

G. Rossini: Barber of Seville



I have a strong belief in the pure, necessary joy of making music and have over twenty years teaching experience as a musican-teacher. I can provide expert music instruction to students of all ages and abilities.

CLASSES
Guitar lessons are one-to-one and group private instruction for students of all ages and levels.

The lessons are held weekly at one of two locations in Boulder County.

Center for Musical Arts
200 East Baseline Road
Lafayette, Colorado 80026
General info: (303) 665-0599 or office@comusic.org
Contact CMA directly to schedule lessons with guitar instructor Michael Quam

or

Michael Quam's Lesson Studio, Lafayette, CO
(East Boulder County just off 287, between Arapahoe and Baseline)

Instructor contact:
Michael Quam
Telephone: 720-890-0230
E-mail: guitar@michaelquam.com
Web: www. MichaelQuam.com




High Plains Guitar Ensemble

A guitar ensemble made up of all acoustic guitars!

The ensemble will explore many styles of music from renaissance to rock.

Students will develop ensemble playing skills using three-part guitar arrangements in an orchestral group configuration of three or more players. Class sessions consist of ensemble practice/rehearsal and culminate in a class performance at the end of the term during the spring term recital in May.
Tuition: FREE for enrolled students
Day/Time: First Saturday of the month



Guitar Repertory Class

This class provides guitar students the opportunity to develop performance skills in a supportive environment. Students will perform for their peers and provide feedback for each other to help improve performance technique.

Tuition: FREE for enrolled students
Ages: All

Day/Time: First Saturday of the month.

Small Group Lessons

Small group lessons make a great introduction to music making for first time students! Small group lessons are 60 minute lessons and focus on group class lessons, but also offer individual attention for each the students. Group lessons are an economical and fun way to make music for the beginner.

Semi-private lesson for two to three guitar or ukulele students

60 minute group lesson: $50

GUITAR STUDIO POLICIES



Fees
Lesson and class fees are as follows:
All fees for lessons are billed by the month. All fees are per lesson, based on a four-week month.

Private Lessons
30 minute lesson: $27
45 minute lesson: $37
60 minute lesson: $50

Discounts
Discounts can be arranged for families with multiple enrolled students

Termination of Lessons
Lessons may be terminated at the end of any month provided notice is given. Students will be enrolled for the next month's lessons unless notified.

Make-up Lessons
Since a student's progress is dependent on regular lessons and practice, every effort should be made to attend each lesson by the student. If a lesson must be missed, a make-up lesson can be scheduled provided all the following guidelines are followed:

1. Notification of an absence must be made at least 24 hours before the lesson.
2. Make-up lessons are made up at the instructor's convenience. Please ask instructor for possible days/times.

Instructor Absence
If the instructor must cancel a lesson, he will contact you before the lesson and inform you of possible make-up times. Private lessons will be rescheduled at a time convenient to both the student and the instructor.

Holidays
The Boulder Valley School District school calendar is closely observed for holidays. Lessons are typically not given on January 19th (MLK Day), February 16th (President's Day), May 25th (Memorial Day), and March 22nd- 29th (Spring Break).

Recitals
A studio recital is offered in the Fall and Spring. Specific dates will be announced.

Student Evaluation
Practice sheets are to be completed by the student and brought to each lesson.

Student Conduct
Children and students under 18 years of age must be accompanied by a parent or guardian at all times. Students under 18 years old cannot be dropped off to attend lessons. Students must be accompanied by an adult during their entire visit.